Garage Floor Coating Media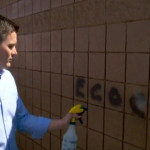 It is Eco-CorFlex Hydro Poly, an anti-graffiti coating that prevents any chemicals from marring or adhering. "It is going to set the trend for graffiti removal, it also is going to set the trend for beautifying cities," said Dave Barker of Eco-CorFlex. The company held a demonstration to show the anti-graffiti product in action. It has been over a decade in the making. "It's been ten years in research and development to create this as a perfect system," added Barker.
According to Eco-CorFlex, Hydro Poly can seal any surface including, "exposed aggregate, concrete, flagstone, paver stone, wood, decorative or stamped concrete, painted surfaces, asphalt, and sealed & coated surfaces." The product is applied once and in case the surface is vandalized by graffiti the company has an eco-friendly organic cleaner that will remove the graffiti. One Valley small business owner spends hours cleaning up graffiti, but Eco-CorFlex claims to have a solution that will save time and money.
"My brother and I would come out here just about every single weekend…paint graffiti," said Justin Johnson. "Within a day or two it was back up on the walls." Johnson and his partners developed and revitalized Berkana at Adobe, an inner-city redevelopment project in Phoenix. It was "part of their ongoing efforts to support neighborhood rehabilitation." Johnson announced his candidacy for the District 4 City Council race in February. This product is one step in Johnson's plan to fight graffiti.