Spring has sprung. With it, buds bloom, animals awaken and gardeners sow seeds in the warming sun. But spring also brings its perennial rains that saturate the ground and fill storm drains. T'is the season for basement water infiltration…otherwise know as flooding.
So how do you ensure your basement is protected against moisture, whether it comes in the form of a full-fledged flood or something less invasive? I'll briefly discuss exterior waterproofing as a way to mitigate flooding, but in this blog, I'll focus on a type of water infiltration that is (seemingly) less menacing.
Exterior Waterproofing
The surest way to protect a basement from the ravages of water is a full-scale exterior waterproofing solution. Exterior waterproofing involves excavating the periphery of the home to the full depth of the foundation walls.
Once excavated, a waterproof coating or membrane is installed and topped by drainage panels. The panels provide the path for water to flow down to an exterior French drain at the bottom of your foundation. From there, the accumulated water flows by gravity (or via sump pump), away from your foundation into a storm drain.
In theory, exterior waterproofing is a "built-in" feature of most dwellings, but may be absent or in need of maintenance in some homes. If absent, exterior waterproofing is expensive. Possibly in the range of $15,000 to $30,000. But that's not all. You'll also need an "internal water-resistant barrier (WRB) too".
Why Do I Need a WRB?
A flood isn't the only way water makes its way into a home. There's another more insidious way. Something called "moisture vapor transmission", or MVT, a common problem in basements, storage rooms and other interior sub-structures. The moisture source, typically the earth itself, provides a continuous flow of humidity that passes through your basement's concrete slab.
Over time, this form of water infiltration may lead to concrete failure. But MVT may also lead to the accretion of mold and mildew, resulting in indoor air quality (IAQ) issues. Have you noticed a musty odor in your basement? That's an IAQ that has likely started at your basement's concrete surface.
(Note: Moisture vapor isn't the only culprit. Radon, an invisible, odorless and radioactive gas, can also seep through concrete slabs).
How Does this happen?
Well, a house acts like a vacuum for underground gases. The air pressure inside your house is lower than in the soil surrounding the foundation. This difference in pressure is caused by your air exchange, exhaust fans, clothes dryers and the like. When air is pushed out of the house, outside air is pulled in to replace it. And much of this replacement air comes from the ground surrounding the house…bringing water (and other ) vapors with it.
How Can I Mitigate Against This Type of Moisture?
The best way is to apply a moisture barrier like an epoxy coating to the floor. This shouldn't only be done if you've been flooded or live in an area prone to flooding, it should be done as a standard approach to mitigating MVT.
Even if you intend to install carpet, tile, laminate or wood floors in your basement, install a moisture-mitigating epoxy coating first. Epoxy flooring is an effective mitigation strategy against MVT. Far better than carpet, tile, laminate or wood floors.
Not Just Any Old Epoxy
Just ask your flooring specialist to install a solvent-free, moisture-tolerant epoxy. At GarageFloorCoating.com, we'll use our moisture-mitigating Hydro Polymer or our new 3-component cementitious ZYCRETE PMC as the primer coat. These products create a bond that exceeds the pressure trying to move the moisture upward.
MVT problem solved.
The Wrap
GarageFloorCoating.com (GFC) was founded in 1996 and is a leading innovator in garage floor coating products and techniques. The company has assisted in establishing over 30 franchises and dealerships throughout the US. Specializing in residential, commercial and industrial epoxy floor coatings and concrete repair, GFC has installed its proprietary coatings in garages, basements, warehouses, airplane hangars, showrooms, retail facilities, walkways, patios, food preparation, and so many more spaces.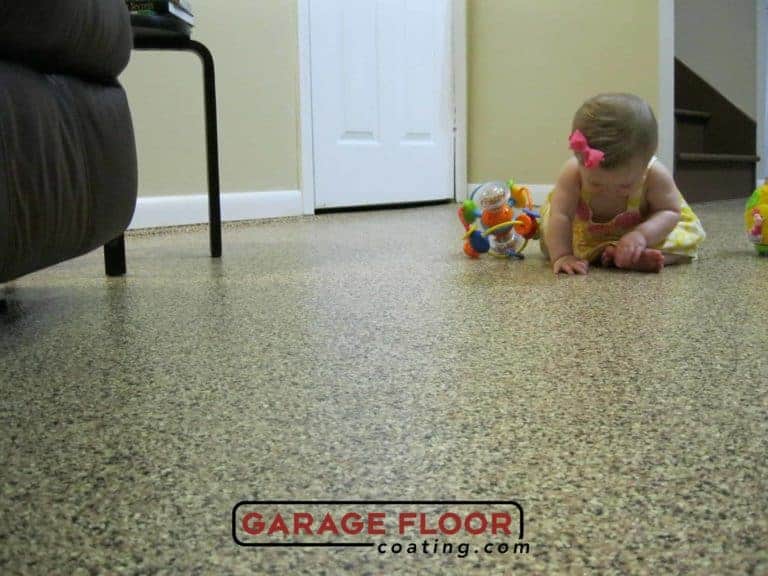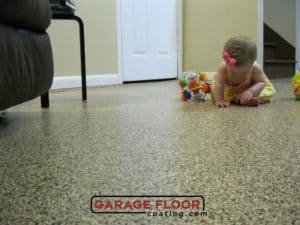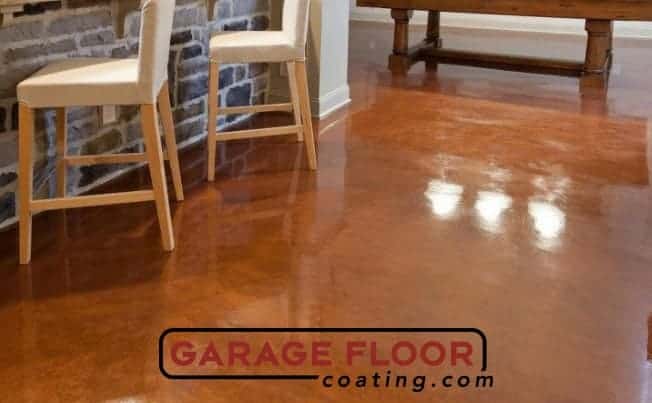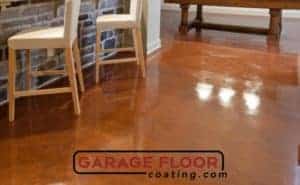 Image credit for header – https://www.canadianunderwriter.ca/insurance/how-brokers-can-stop-a-flooded-basement-1004162024/