In prior blogs, we've covered a lot of topics from concrete preparation and moisture-mitigation to improving the customer experience. But this time around, I'm invoking the "A picture is worth a thousand words" adage by showing several before and after epoxy installs. Nothing gets us more business than showing our customer prospects what their garage could look like!
Peeling Paint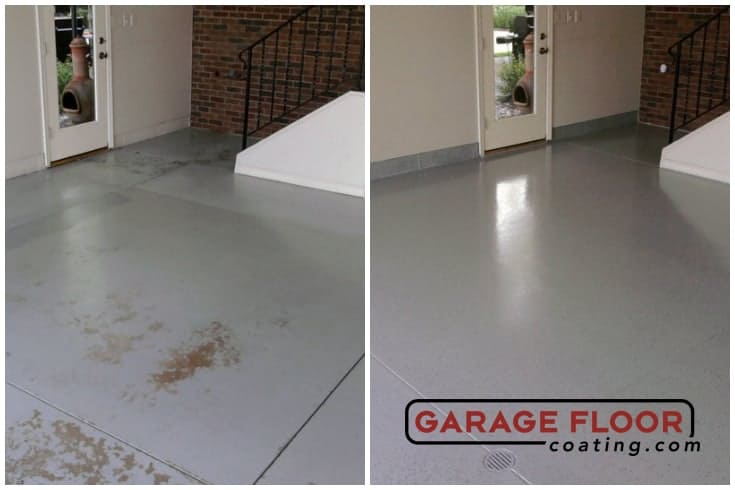 Our first before and after epoxy install photos are of a homeowners ugly gray painted garage floor. Painted flooring provides a temporary solution. With vehicular traffic, the paint inevitably lifts in rather short order, and arguably, looks worse than the original gray concrete.
In the "before" photo on the right, the peeling and staining of the paint is apparent. To fix this problem, we used a diamond grinder to remove the existing paint and create a concrete "profile" to which the epoxy primer coat adhered strongly. We then applied a color coat and chipped into the epoxy producing a subtle, partially-chipped epoxy coating system we call the Premium. Click this link to view various Premium color samples.
Broken and Cracked Concrete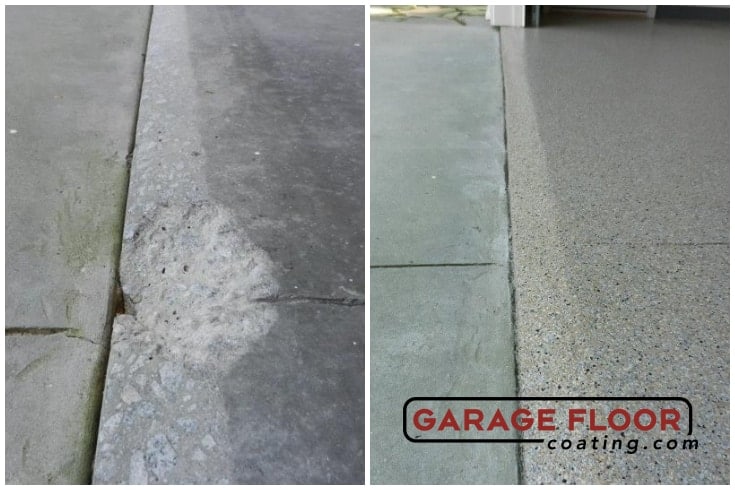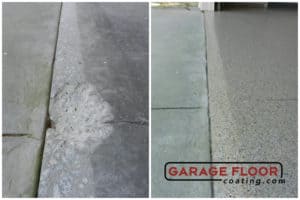 A perfect example of broken and cracked concrete is provided in this "before" photo. Because garage entrances are exposed to the highest vehicular traffic and weather, this type of damage is very common. Pitted and cracked concrete is also common in the more northern US states, where winter's freeze-and-thaw cycle takes its toll.
In the photo to the right, we repaired the cracked and broken concrete using a polyaspartic-aggregate mix. Next, we primed the prepared concrete with a moisture-mitigating epoxy and a chipped color-coat. In this case, we applied mineral mica chips in a "full-spread" broadcast to produce our Bagari SE coating system.
Click this link to see our many Bagari SE color samples
Moisture Damaged Concrete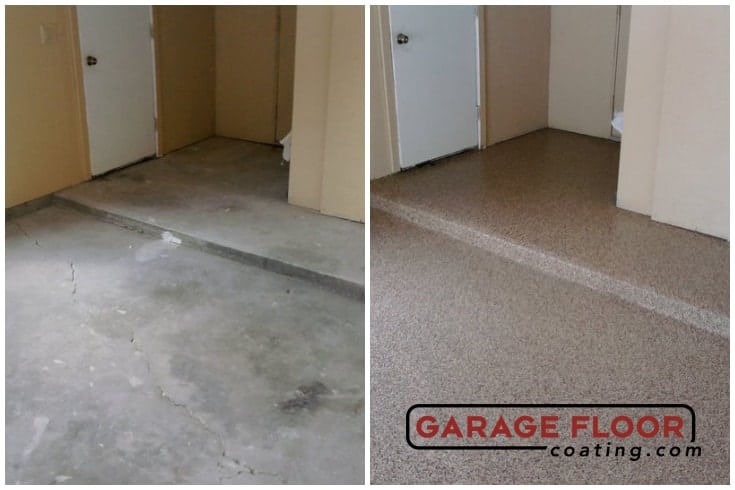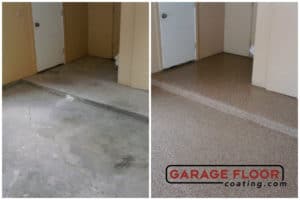 The discolored concrete in this "before" photo is indicative of a problem called moisture vapor transmission (MVT). MVT is the "wicking" of water vapor up through the concrete that, over time, leaves telltale signs: dark spots and efflorescence (white spots where salt has migrated to the surface of the concrete).
Before coating any garage floor, we'll take multiple moisture readings using a calibrated moisture meter. If the moisture readings are high, we'll use our moisture-mitigating epoxy as the primer coat. These two-component epoxies provide deep substrate penetration and mitigate  moisture issues.
In this case, we coated the gray, vapor-laden concrete with our full-broadcast Ultra coating system. The two clear topcoats, characteristic of these systems, will ensure this garage floor lasts a lifetime. Click this link to view our Ultra color samples.
The Wrap
Convinced by these before and after epoxy installs? Let us transform  your ugly gray garage into something you'll be proud of! GarageFloorCoating.com was founded in 1996 and is a leading innovator in garage floor coating products and techniques. The company has assisted in establishing over 30 franchises and dealerships throughout the US.
Specializing in residential, commercial and industrial epoxy floor coatings and concrete repair, GFC has installed its proprietary coatings in garages, basements, warehouses, airplane hangars, showrooms, retail facilities, walkways, patios, food preparation, and so many more spaces.