Metallic Systems – Epoxy Flooring
"Form Ever Follows Function"
It was the Roman architect, engineer and author, Marcus Vitruvius Pollio, who first asserted in his book De architectura that structures must exhibit 3 qualities: "firmitas", "utilitas" and "venustas" – that is, structures must be solid, useful, and beautiful. Based on this premise, he coined the phrase "…form ever follows function". Now look down and perform a quick assessment. Are you looking at unsightly carpeting, outdated vinyl tiles, or dull grey concrete? Does any of it ascribe to the law of "firmitas", "utilitas" and "venustas"? No worries…most standard flooring doesn't. But if you're a sophisticated homeowner, restaurateur, or other business owner with a flair for design…do we have a product for you!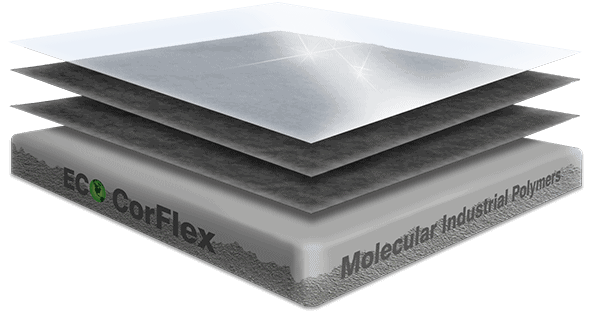 *Due to screen color calibration settings, images and color tones may vary from actual samples.
Metallic Coating Systems…Where Form and Function Meet
Eco-CorFlex Industrial Polymers would like to introduce you to its unique metallic coating systems called Liquid Art. This hand-crafted, sophisticated interior flooring with a 3-dimensional high gloss finish is available in a variety of exclusive colors and effects. Floors finished with this coating system are striking and inimitable…possessing a flowing, "glass-like" quality. No two floors ever look the same! Eco-CorFlex's Metallic System is a complex coating system for interior applications only, including basements, kitchens, recreation & exercise rooms, showrooms, salons, restaurants, retail and other commercial facility flooring where visual impact is desired. This coating system involves the application of two pearlescent metallic epoxy color coats that produces a unique flowing design…a clear coat is then applied for added protection. This technique assures a one-of-a-kind finish that has simply revolutionized the floor coating industry.
Why Choose Our Metallic Coating System?
Eco-CorFlex's Metallic Coating System uses industrial-grade, low-VOC and low-odor products that once applied, strongly resist staining and abrasion. Our installers are highly trained ensuring your finished product is as aesthetically stunning as it is functional…"solid, useful and beautiful".
Other benefits of the Metallic Coating Systems include:
Eco-friendly products
Low maintenance
Impermeable
Molecular bonding
Solvent resistant
Restores & beautifies surfaces
Guaranteed
Get the details & get in touch today…
To request a quote, please click HERE or give us a call at 877.324.2628. We look forward to hearing from you soon!