Water-Proofing
Eco-CorFlex's Water-Proofing System, may be used on any vertical surface in which extreme moisture-mitigation is required. This system halts moisture transmission and is superb for waterproofing walls and other vertical substrates. Its application involves two coats of Eco-CorFlex's Hydro Polymer followed by two to three coats of Eco-CorFlex's proprietary Rycon rubberized sealant. After the Eco-CorFlex's Water-Proofing System has fully cured, it can be painted to help match a customer's decor.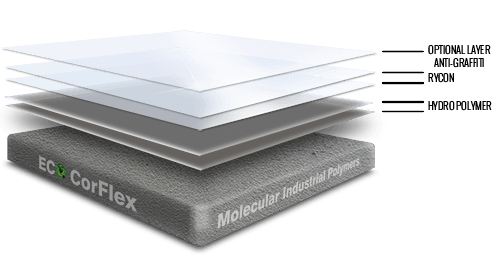 Why Choose Our Water-Proofing System?
Have you noticed a moldy or musty odor in certain areas of your home or workplace? This odor may be a sign of concrete moisture vapor emission, a common problem in basements, garages, cellars, furnace rooms, storage rooms and other sub-structures. The moisture source, typically the earth itself, provides a continuous flow of humidity that passes through the concrete slab.
Over time, this infiltration of moisture may lead to the accumulation of visible white salts ("efflorescence"), and if left unresolved, may lead to possible concrete failure. More importantly however, the moisture may be the source of Sick Building Syndrome and other indoor air quality (IAQ) issues that often start at concrete surfaces fed by sustained humidity.
At Eco-CorFlex we know how potentially unhealthy indoor air quality issues can become and have developed our proprietary water-proofing system as a front-line defense.
So what makes this coating so special?
Eco-CorFlex's proprietary water-proofing system provides a healthier environment by forming an impermeable layer of protection against indoor air quality threats including VOC out-gassing, mold and radon transmission.
Other benefits include:
• Eco-friendly low- and zero-VOC
• Low odor
• Chemical and stain resistant
• Provides surface restoration & beautification
• Paintable
• Superior water- and vapor-proofing
• Excellent flexibility
• Spans cracks and seams
• Prevents mold growth
• …and much more
Get the Details & Get in Touch Today…
To request a quote, please click HERE or give us a call at 877.324.2628. We aim to keep you happy and healthy.
We look forward to hearing from you soon!