Concrete Coatings for Residential, Commercial & Retail Spaces
At GarageFloorCoating.com, we develop industrial-grade epoxy, polyurethane and polyurea-polyaspartic concrete coatings for use in our branded, high-end flooring systems. Our authorized dealers and franchisees, located across the United States, are highly trained and certified applicators. Over the past 25 years, this network of professional applicators has installed over 70 million square feet of our proprietary concrete coatings for residential, retail and commercial customers.
We Coat More than Garages
But don't let our corporate name fool you. We coat more than garages! Along with our dealers and franchisees, we professionally install our one-of-a-kind epoxy, polyurethane, polyurea-polyaspartic coating systems on exterior patios, walkways and driveways. And inside too, in kitchens, basements and family rooms. But of course, we also coat garages. Thousands of them. And we promise our garage floor coatings will turn your home into the talk of the neighborhood.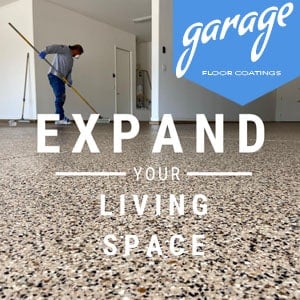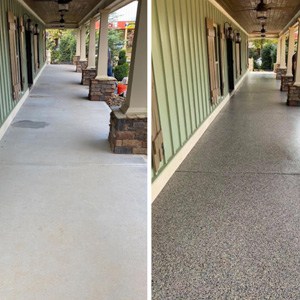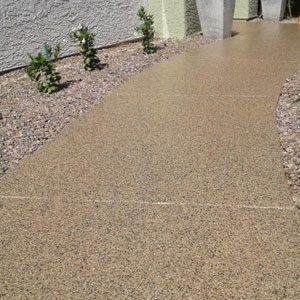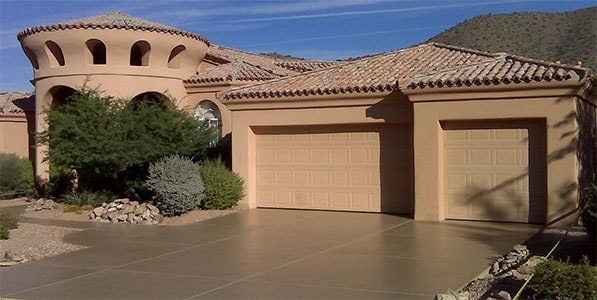 Commercial and Retail Spaces
But our coatings are very popular as retail and commercial flooring as well. Because commercial and retail spaces are so often exposed to extreme traffic, heavy loads or harsh environments, durable industrial-grade flooring is essential. Our epoxy, polyurea and polyaspartic products and flooring systems meet this requirement by providing excellent flexural strength and superior impact, abrasion, moisture, chemical and stain resistance.
Our industrial floor coatings endure:
High foot traffic, extreme loads and high impact from pallet jacks, forklifts and vehicular traffic in warehouses, grocery stores, firehouses, airplane hangars and parking lots.
High foot traffic and staining in restaurants, bakeries and commercial kitchens.
Harsh chemical environments in automotive garages and industrial facilities.
Temperature exposure and high safety needs for wheelchair ramps and refrigeration units.
High foot traffic in homes, hotels and office spaces.
Residential, commercial and retail. Winter, spring, summer and fall. Any time, any space.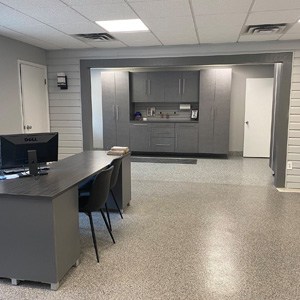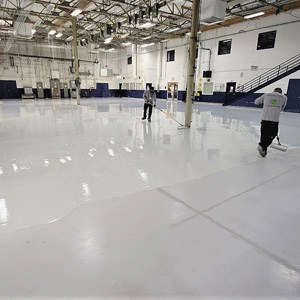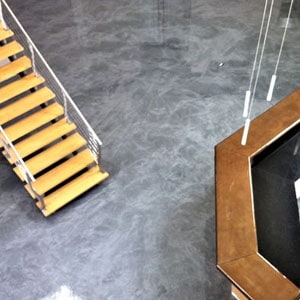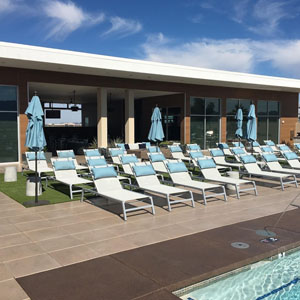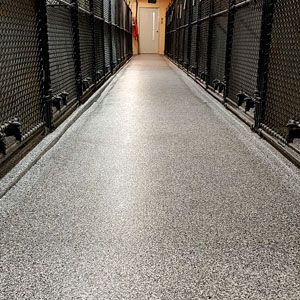 A Large Selection of Coating Systems
We offer a variety of inimitable floor coating systems available in a host of colors, styles and pricing options to match your budget, taste and decor. We'll take your gray, damp, stained and cracked slab of ugly concrete and turn it into a beautiful extension of your residential, commercial or retail space.
Our floor coating systems fall into one of five categories. Click in the links to see color samples of each coating system type: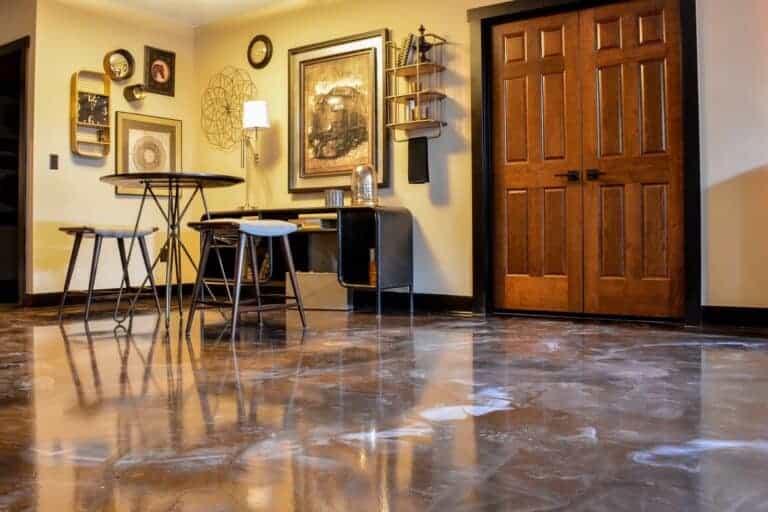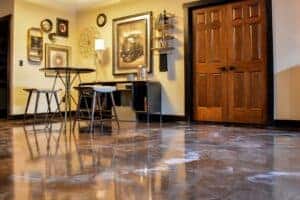 Click the process video to the right to watch the installation of our full-chip mica system called Bagari SE.
A Solution for Damaged Concrete
Just as in painting, application of epoxy, polyurethane, and polyurea-polyaspartic floor coatings is as much about preparation as it is about application. And high-quality concrete preparation requires proper grinding (using industrial diamond grinders) in addition to the meticulous attention to the repair of hairline cracks, spalling, minor indentations ("pitting") and major cracks. The time spent on these issues significantly enhances the final appearance of your installed floor coating system. Our concrete preparation process and thick coating systems conceal minor and major concrete imperfections.
We offer a great selection of safe, low odor and low VOC products. No heavy metals, no phthalates, no added formaldehyde. We even offer low-odor floor coating systems that are specifically designed for interior installations. After our products fully cure, the floors are virtually inert, producing little to no "out-gassing". Safe during and after installation, our line-up of low-odor, low VOC products include our:
Hydro Polymer: A low-odor, high-solids, moisture-mitigating epoxy primer
100% Solid Polymer: A low-moisture primer coat or low UV/chemical-resistant color coat
SL Epoxy: A low-odor, zero solvent, 100% solids, high-build epoxy color or clear coat
Poly Pro II: A low-odor, high-solids water-based polyurethane (regular & low-sheen)
LOPH II: A clear, low-odor, polyaspartic top-coat
Concrete repair products including our urethane cement called Zycrete PMC-120 and our polymer-modified cement called Duracuire FC Concrete Patch
Are you worried about slippage? Don't be. Our certified installers incorporate aggregate into the final coat of all of our floor coatings. We call these slip-resistant aggregates "anti-skid" or "anti-slip" because they provide a roughness to the floor. More importantly, we can adjust the type of anti-skid used within your concrete coating to reflect your level of concern. There are multiple anti-skid options, from the least aggressive (and least visible) polypropylene spheres, to the more "aggressive" (and more visible) quartz and aluminum oxide.
There are lots of reasons to want epoxy, polyurea and polyaspartic floor coatings installed in your home, commercial facility or retail space. Long guarantees, inimitable beauty, durability, moisture mitigation and increased property re-sale value. But what you'll love the most about your new floor coating is its ease of maintenance! It's unbelievably simple! The smooth non-porous surface ensures dust, grease, oil, brake fluid and other chemicals are wiped up quickly and easily.
Conversely, bacteria, mold and mildew thrive in untreated porous floors. At the same time, dust originates from the uncoated concrete itself. The dirt and microorganisms are tracked into your home, commercial or retail space creating potential health concerns. Don't let that slab of concrete become a portal to dust, dirt and bacteria.
Just choose your preferred floor coating and we'll handle the rest. We're committed to customer satisfaction and the highest quality service possible. Beginning with design and throughout installation, we guarantee a worry-free process. All you need to do is relax and enjoy your newly transformed residential, commercial or retail space.
Call us at 877-324-2628 for a free, no-obligation estimate and we'll walk you through the process in a comfortable, no-pressure atmosphere.